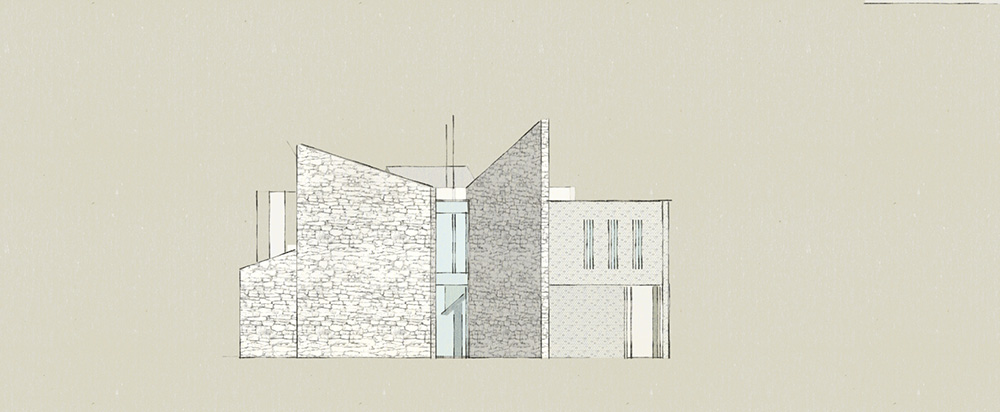 Located in North Croydon, The South London Mahajanwadi serves the needs of the Oshwal community members residing in South London. It houses a Ghar Derasar (Temple), where religious activities are organised on a regular basis. The building stands as the main community hub and administrative core of the association.
The existing site is composed by a Grade II Listed Church, connected to large three-storey brick structure. The community believes that the current premises are not adequate for their growing institution and looked to DS Squared Architects to translate their welcoming and vibrant energy into architecture.
We approached this project aiming to create a proposal that would generate acceptance and understanding through a highly inclusive design. For that reason the project focused on one of the key aspects of the religion, the OSHWAL symbol (culture / diversity). We explored the shape and concept of the symbol and reflected the geometry within the main circulation core of the building. The spaces branch off from this main structure, drawing in the community from all angles.
Throughout this project, we utilised 3D modelling software to extract geometries from the site and formulate a design that would directly responds to its context. Different renders were prepared to allow the Oshwal Centre members to fully explore all angles of the proposal.
Throughout the planning process, we maintained very close relationships with planning and history consultants due to the nature of the site. Even though this scheme had positive feedback from Croydon Council after a Pre App meeting, and enjoys from the community's full support, it is currently after raising funds before it can proceed.
Location:
CROYDON, LONDON
Footprint:
1,200 SQM
Status:
INACTIVE, PROPERTY WAS SOLD BY THE COMMUNITY
Involvement:
STAGES 0-2
Budget:
UNDISCLOSED
Client:
OSHWAL ASSOCIATION OF THE UK
Date:
20TH MAY 2018